Hello TVT Traders!

As you are already used to, we will analyze what interesting had happened during the previous week. Also, as always, we make predictions and put priorities based on the tick data and key changes in COT positions.

On Friday evening we saw a perfect buying signal on US Treasury Bonds (ZB). A couple of divergences between CD and CDQ + HFT Volumes on the bottom. The first target is the previous red HFT and then we will see how healthy buyers will be there. I want to remind you, that hedge funds opened a big long position in ZB, that's why I am also are interested to play this game.



Japanese Yen (6J), it seems to me that this week we will see the same as in treasures - breakout the downtrend and move to commercial level 0,008150. Hope that we came to the lower boundary of the future range and now are ready to go to the upper one. Previous changes in COT data are minimal and do not influence the picture.




Mexican peso (6M) really made a new top and it's good for me, that I thought of putting a stop loss above the volume levels Sep 21 and Jun 21. I believe that it is a temporary correction and the price will go further downside to commercial level 0,00487 and lower.




Gold (GC) as we discussed, made several pullbacks from the lower boundary of the channel, and this attempt looks stronger than the previous one. My opinion is that gold will proceed to move higher during the next week.



The Canadian dollar (6C) - of course, it was not without shakeout, but the idea was absolutely right. During the week we overviewed serious seizing of the initiative by sellers.
As I wrote before "CallBlocks on extremums and a very big amount of divergence between CD and CDQ made their job for us as swing traders. And I think this dynamic will continue this week."




Now the price of the Canadian dollar is on technical support and I believe after small correction will be the next downside wave. We saw how on Friday evening traders were enforced to close their hedge because of the expiration of the options contract, that's why the market can involve hedgers in the new contract before going up.

As you see sometimes the price after my report can make inertial movement in a priority direction. But as Jessie Livermore said: the most important thing is the skill to define the turnaround point and then it's a matter of techniques.

For example ase I wrote 2 weeks ago about S&P 500 "Previous week we saw a strong fall of VIX (fear index) with a breaking uptrend. Be careful, I think that soon we will see falling in the broad market index!!! Hedge funds dramatically increased shorts. I put sell priority on S&P 500 (ES) for the next week


" In fact we saw the correction a bit later




Together with the rest, we can observe some pullback in the Australian dollar (6A), hedge funds are quite bullish here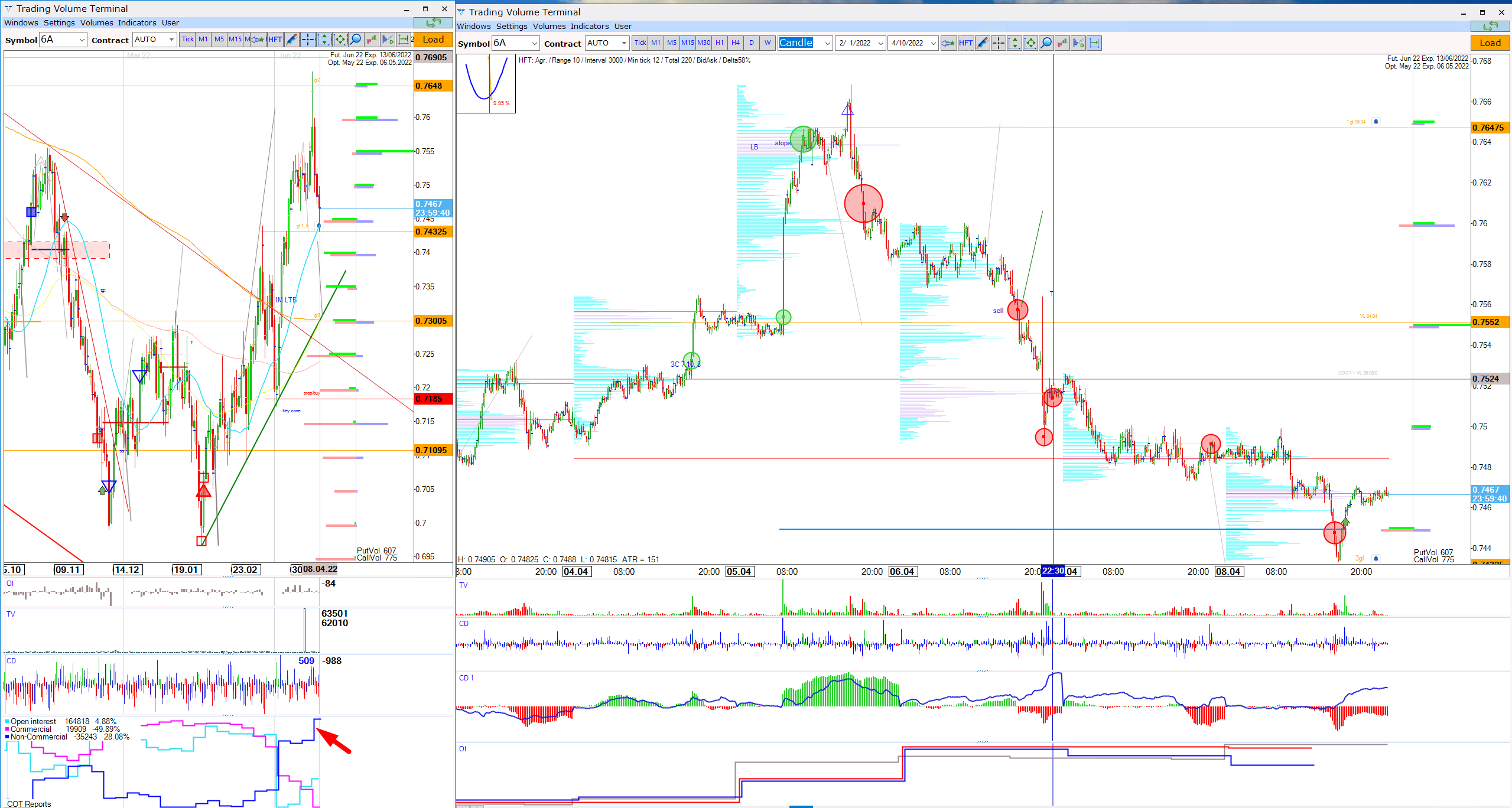 As a result:
US treasuries (ZB) - buy
Japanese Yen (6J) - buy
Gold (GC) - hold purchases
Mexican peso (6M) - keep sales
Australian dollar (6A) - buy

Trade the plan and plan the trade, and do not accept this information as financial, investment, trading or other advice or recommendation. Be very attentive to your decisions and make them by yourself!

(Previously published in TVT School)

Sincerely, Taras Sviatun
Team Trading Volume Terminal