​​DXY is tired to rise.

Good morning TVT Traders!

🔻 Let's start from the leader of markets - DXY. From the previous analysis, we have designated a key level 106.72 and the price did not brokedown this level even by 1 tick. It became a real growing point from the start of the week. On Friday the price closed on the uptrend line and after its breakdown, I expect to see correctional movement to this magnet.



🔻 What about Gold (GC), I really expected that the price will go up from Tuesday's bottom, but the unbelievable record inflation in the USA created high volatility. Funds opened a record short position, and OI rose by 8% during the reported week. Now according to the big amount of ask HFTs here reversal is also rather possible.



🔻 The Australian dollar (6A) according to my scenario broke that accumulation range with stop-losses that are shown by HFT volumes at the 0,6760 level. On Thursday there was a perfect entry point that I missed with a perfect risk-reward ratio.



🔻 Also for educational purposes, I want to show you the Natural Gas (NG) entry point, which was created on Tuesday. This case corresponded with 3 tactics:

1. to Buy the asset when BID HFTs' appear on accumulated ASK Delta;
2. Bid HFT volumes before market close under the mirror level
3. Bid HFTs' above the option payouts level.

When 3 tactics meet in one place - more likely that the price will go with high probability.




🔻 On Coopper (HG) we see that the price shows us a reversal pattern on the chart, but from the volume analysis view, I see 2 scenarios:

Longing opportunity up to 3.35 if the price will stay here on Monday open and will not go lower
Shorting opportunity after the breakdown of the 3.23 volume level, where Ask HFT volumes were created.

The delta effort that we saw on Friday tells us for sure that the price will not stay here this week.



🔻 Euro (6E), I see that the price for sure will go up after the last BID ticks imbalances and divergences of CD and CDQ. Also, we see how traders close their Put options, and the support of very big OI in options on the 1.0 strike was respected.
So I expect the movement to the empty volume profile zone 1.02725.




🔻 And I see my favorite picture Sugar (SB). After double top creation, there was a divergence of CD and CDQ. This always means that a short squeeze will be. Very similar picture as it was with involvement in sells after trend breakdown, now this is involvement in buys after trend breakup. So we can observe some reversal to balance and to commercial level 18.40 at the same time.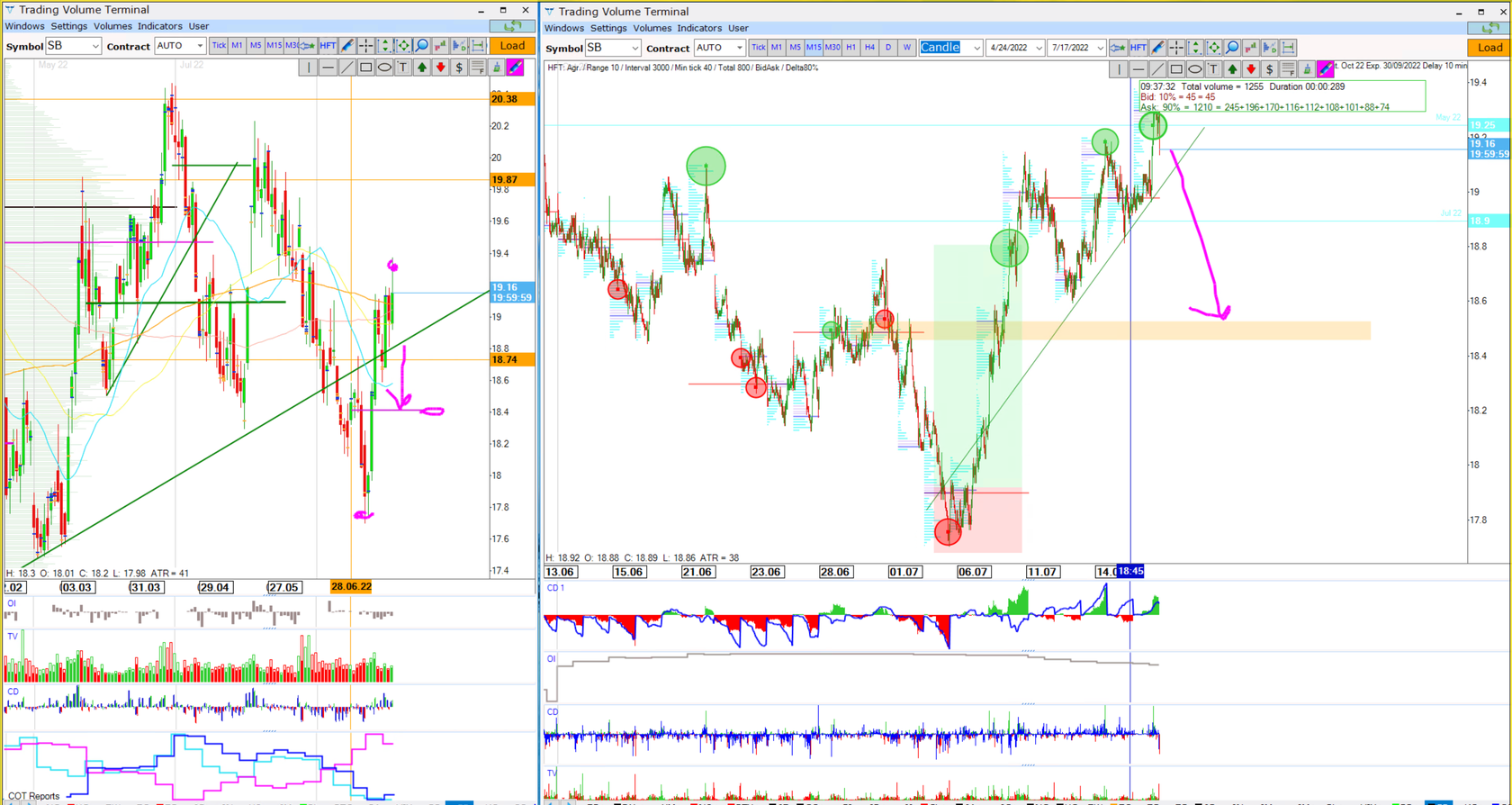 So as a result we have:

Gold Buy
Euro Buy
Coopper 3.23 key level
Sugar Sell

Have a nice Sunday traders!

📹 All details are in this 9 minutes video ⬇️




(Previously published in TVT School)

Sincerely, Taras Sviatun
Team Trading Volume Terminal