Hello, Traders!


Let's speak about Key changes in COT positions and price changes that happened
previous week.
We took our attention to the Japanese Yen (6J), and we saw the strong pullback from the downtrend this week as we expected. But I have not got any signal to enter this position on the lower TF. It could happen on the bottom, after a big HFT volumes breakdown, but unfortunately not. Nevertheless we saw how informative put options trades can be for us to organize our decision making. Now the price makes retest of commercial level 0.00815 and then, I hope, will go to the area 0,0084 — next commercial level, where funds opened a big short.



Look at Coffee futures (KC)! Great longing opportunity was after stopping HFT volumes were created in our planned direction. Stops with involvement — that is what I like most of all! How we expected, it was a healthy effort to return to the uprising channel.



I am very happy that such a timely decision was to cancel buy priority on Gold (GC). As you observed, It made a very strong and very fast pullback this week! I was even able to get profit on the second falling wave. Now analyzing tick data we see strong buying cumulative deltas and stop hunting on the bottom. So we can expect an upper direction in this asset. But funds and hedgers were rather quite according to COT changings.



On Mexican peso (6M) I made short by the end of the previous week. And hope it will go to commercial level 0,04870.



Due to CDQ rising it can make a new top, that's why I put stop higher than volume level June 21. Hope it must cool down after such a strong uptrend.

Despite everybody saw a trend continuation in the Canadian dollar (6C), we — TVT Traders — saw, with the help of liquidity flow analysis, that prices will stop heating. CallBlocks on extremums and a very big amount of divergence between CD and CDQ made their job for us as swing traders. And I think this dynamic will continue this week.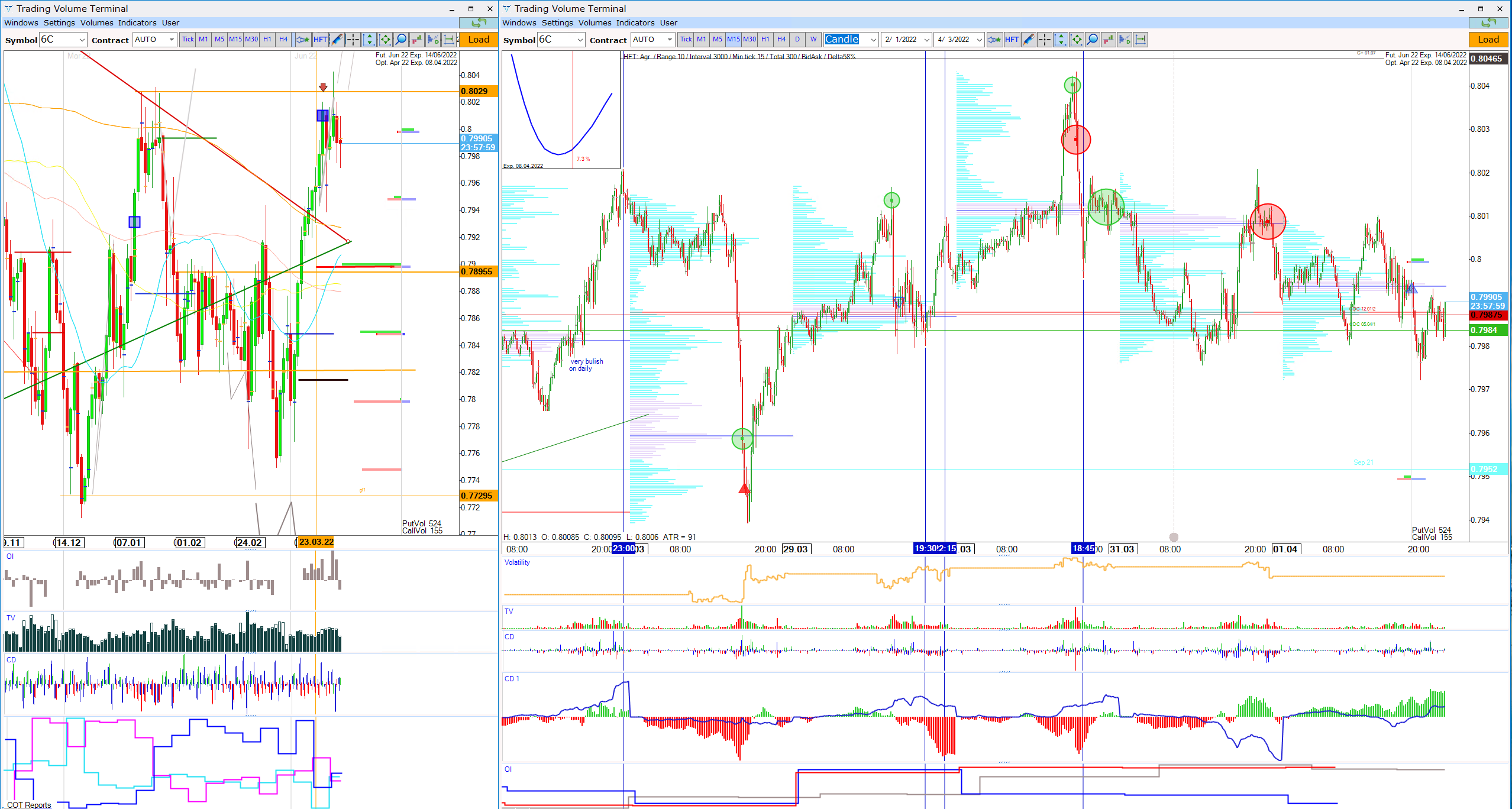 In Natural gas (NG) blocktrades did their job and we saw predictable correction. But of course, as traders, we have to be more reactive and not predictive. And there was a great opportunity in gas not only to close shorts, if they were opened, but also to open buys after such a smart involvement, by the end of tuesday, with HFT volumes and visible divergence of QD and CDQ. That week funds closed huge amounts of shorts and hedgers longs, now I think we will see a ranging trend in this asset.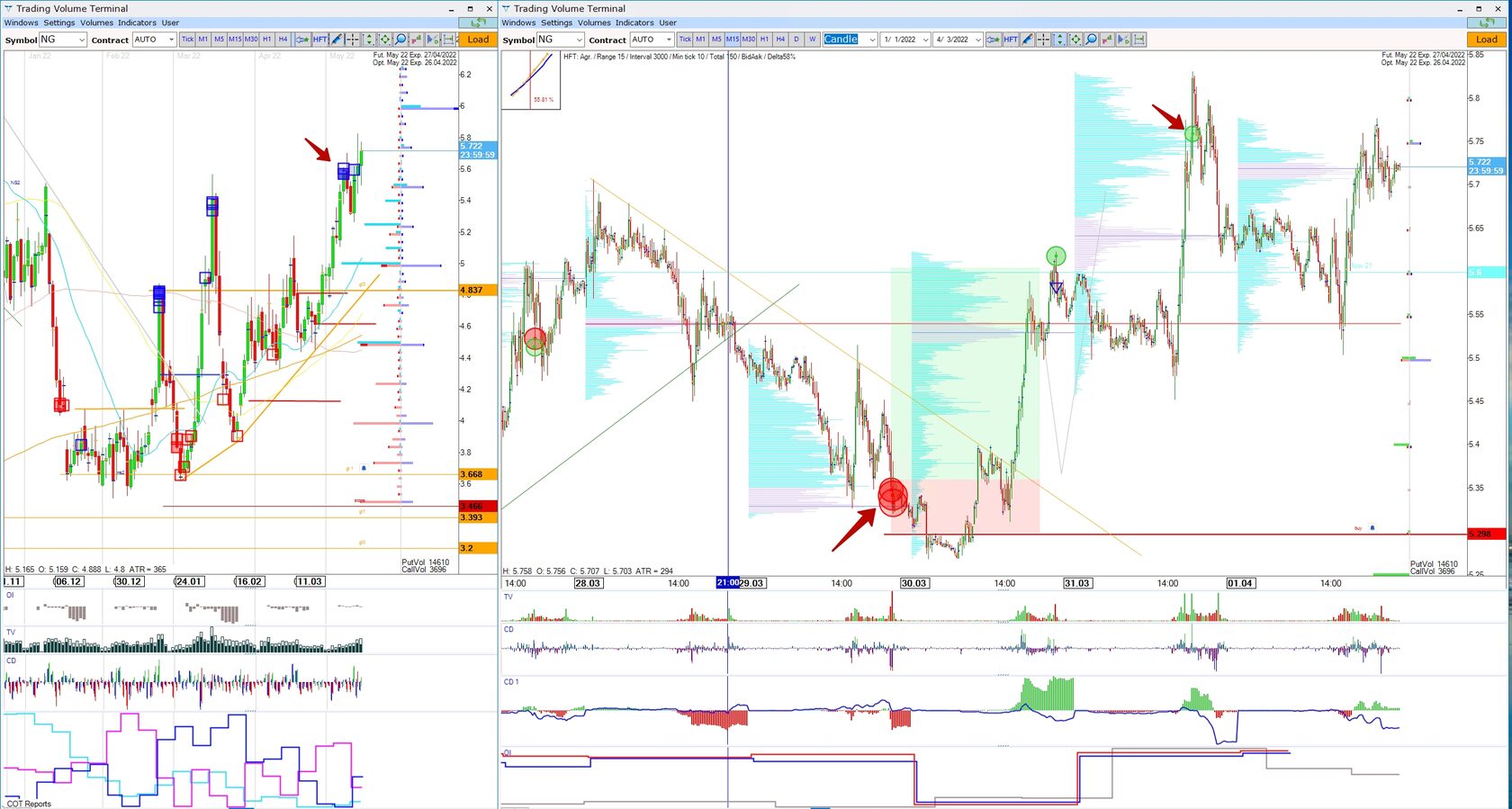 With 10-yr treasuries (ZN) I hope for continuation of growth, and bid HFT volumes inform us accurately about it.



As a result:
Mexican peso (6M) — sell
10-yr treasuries (ZN) — buy
Canadian dollar (6C) — sell
Coffee (KC) — buy
Natural gas (NG) — sell
Japanese Yen (6J) — buy
Other assets without particular direction, decisions according to liquidity flow imbalances.
Thank you for being with us! Glory to Ukraine and its heroes!

Legend:
CD — cumulative delta
CDQ - cumulative delta which counts the amount of aggregated ticks (trades)
OI — open interest
CallBlocks/PutBlocks — large transactions that take place outside the order book
CL — commercial level — zone of the huge changings in positions according to the COT report

Sincerely, Taras Sviatun