Hello TVT traders!

Let's see what interesting we can observe the following week.

🔺 The most serious situation was in Gold (GC). The price achieved "option pays" support with weighty "HFT volume", breakdown, and fast rejection of low prices. Then we saw, with the help of cumulative delta, the activity of limit buyers, who absorbed all the volume of market sellers, and the price went up quickly. I hope very much that here we can take a 1 to 7 ratio, but we need to wait of course.


🔺 Also, we expected trend continuation in Ultra US Treasury Bonds (UB) at least to 165, but this point was not achieved. A strong reversal happened with a breakdown of the uptrendline and major horizontal support zone. But now traders, I see the great potential to the upside after a local rebound from the historical low, and after some stop-loss hunting beyond it.
So I proceed to stay bullish on this asset.


🔺 What about Crude Oil (CL), yes we saw strong stop-loss hunting. If there were HFT volumes on the top of price movement after 2 deltas divergence I would be there. For now, I see a future uptrend breakdown and the correctional potential to the 100 and then to 90 dollars per barrel.


🔺 British pound (6B), I mentioned in my previous review that we need to wait for the longing opportunity here. When we see BID HFTs' that push the price lower and then pullback BID HFTs', we expect that the previous ones will be the resistance for the price. Then, when we see ASK HFTs' after BID, it means the price probably will go down before it will go up. But then, when we see the abnormal size of call options purchase on the important level (which was formed by market buyers in the past), it gives the chance to make a deal with perfect risk to reverse ratio. And as we saw the next day it was high adding open interest on the strike 1.2450. Now I expect a continuation of purchases in GBP at least to 1,2650. Also, you can see on COT data, that funds increased their short position by 27% more!.


🔺 Japanese Yen (6J) is still on the list and keeps following. Of course, we can see some correctional movement after ASK HFTs' on Friday, but in general, this is formed supply zone buy limit buyers, and we see that funds started to close their shorts that will push the prices from here.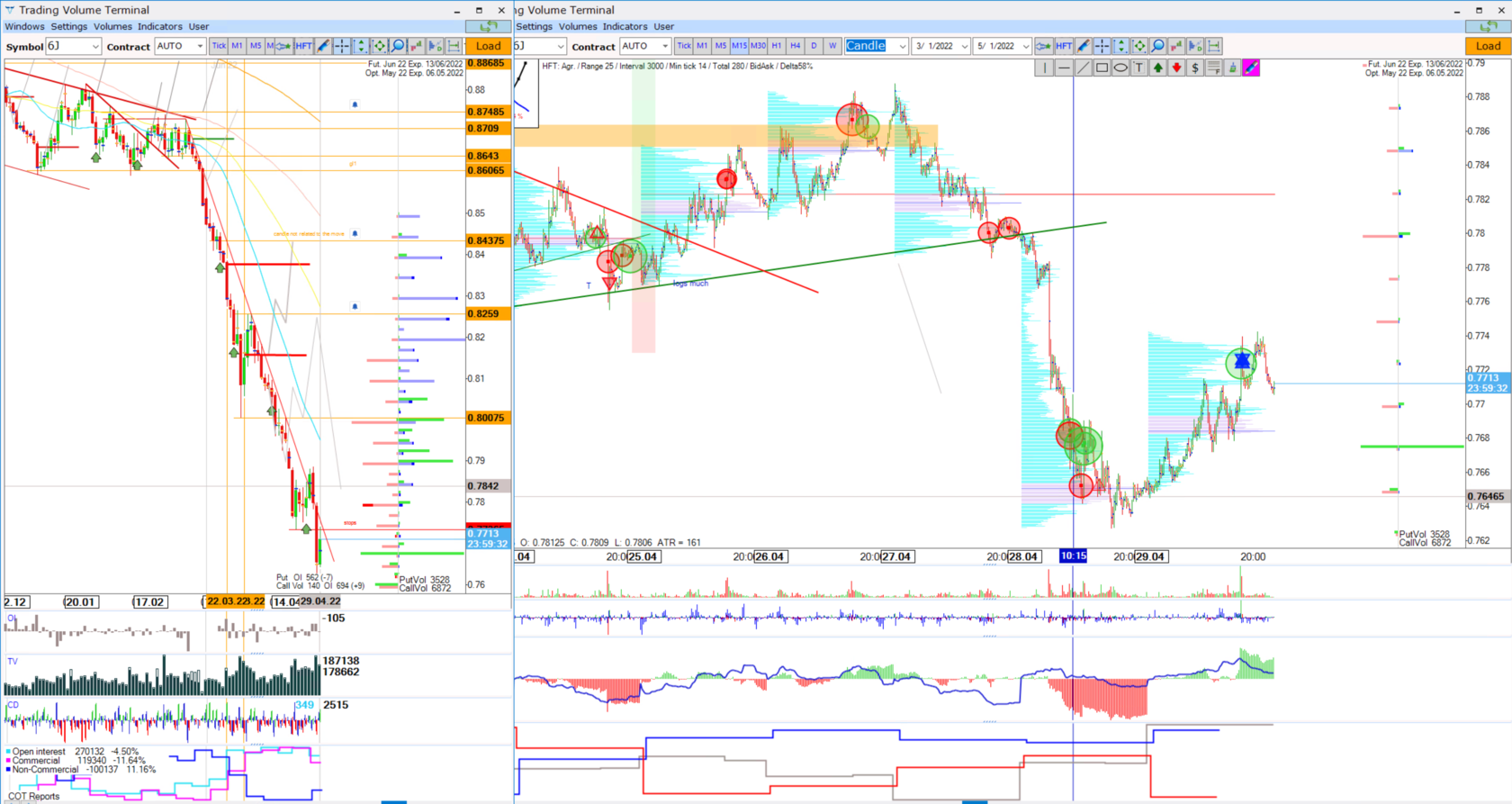 🔺 And finally, I will take attention to Copper (HG) prices. Because of the delta, BID HFT volumes, and activity in call options. Also the involvement in shorts after uptrend breakout. I expect a strong movement to the upside. It can be even to 4.7 dollars per pound.


I think it is enough for today.




As a result:
Ultra US treasuries (UB) - buy
Gold (GC) - hold buys
Japanese Yen (6J) - buy
British pound (6B) - hold buys
Crude Oil (CL) - sell
Copper (HG) - buy

Do not accept this information as financial, investment, trading, or other advice or recommendation. Manage your risk and be very attentive to your decisions and make them by yourself!

Have a good week!

(Previously published in TVT School)

Sincerely, Taras Sviatun
Team Trading Volume Terminal